New Farmington Community Health Center Opens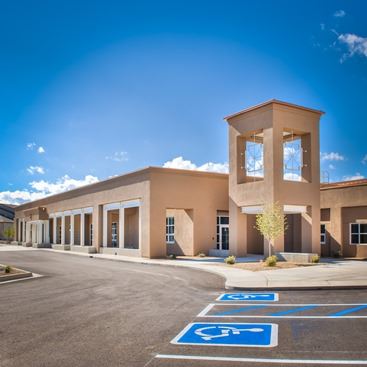 Farmington, N.M. – Presbyterian Medical Services (PMS) has just completed its new 30,000 sq. ft. Farmington Community Health Center (FCHC) serving the residents of San Juan County. With the official ribbon cutting scheduled for Friday, November 7, 2014, this state-of-the-art health care center will provide affordable, integrated primary care, dental, behavioral health, and veterans services to children and adults regardless of their insurance or financial status.
"The new sprawling, campus-like facility located adjacent to the current PMS - Farmington Community Health Center at 1001 W. Broadway in Farmington, has more than doubled the space of the original FCHC," according to PMS President and CEO Steven Hansen.
Hansen added, "Due to the large demand for health care services in San Juan County, previously we had to locate FCHC staff at several separate facilities around Farmington. Now we'll be able to offer a convenient, one-stop location making it even easier for residents to continue to access high-quality health care. We'll also be able to hire more doctors, nurses, and other professional staff to support more patients in the community."
A large part of the funding for the new facility was provided by a $5 million grant from the U.S. Department of Health & Human Services, Health Resources, and Services Administration. Vital support also came from major contributors including, the Merrion Gas & Oil Foundation, The Westmeath Foundation, Citizens Bank, and Wells Fargo."This is a wonderful achievement and an investment that will positively impact the Four Corners community for years to come," commented Pat Sanchez, Business Banking Manager with Wells Fargo.
Michael Renaud, PMS Northwest Region Director, added, "Members of the public are invited to our Open House on Friday, November 7, 2014, from 3 – 5 pm to tour the facility and meet our wonderful staff. We're excited to show you this new, amazing health center."
Members of the media interested in attending the official ribbon-cutting ceremony on the morning of November 7, 2014, should email Suzanne.donati@pmsnm.org.