New Medical Wing Opens at Santa Fe Family Wellness Center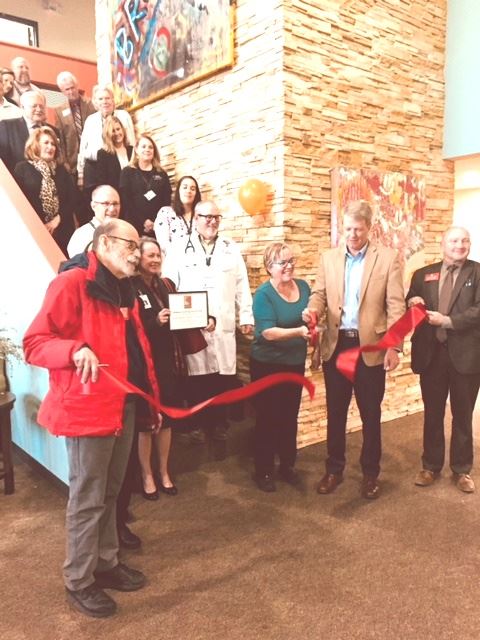 PMS - Santa Fe Family Wellness Center formally opened this week its new medical wing at the clinic located at 2504 Camino Entrada Street in Santa Fe. An Open House was held Wednesday, January 31, to help acquaint the community with services available and with clinical staff. The expansion of services at SFFWC marks the first of its kind on Santa Fe's south side, offering integrated primary care services with behavioral health services.
"Where others talk about the benefits of integrated care, we deliver," said Steve Hansen, President & CEO of Presbyterian Medical Services, "We are doing all the great things people are talking about and we are glad to be here."
The Open House included a meet and greet with providers and staff, tours of facilities, youth activities, door prizes, a ribbon cutting with members of the Santa Fe Chamber of Commerce, and the unveiling of a Wall of Love art installation. Some 100 hand-painted panels have been donated to the Center by young clients of SFFWC as well as members of the community. Combined, the panels create a series of wall murals.
Santa Fe Family Wellness Center offers an array of wrap-around services that include wellness exams, chronic condition management, well child care, women's health, and care for minor injuries. Also, psychiatric services for children and adolescents, comprehensive community support services, behavior management services, respite services, outpatient therapy – individual, group, and family, as well as, multi-system therapy and school-based therapy.
Appointments are inquiries are accepted at 505-471-5006.
As with all PMS federally qualified health centers, PMS - Santa Fe Santa Fe Family Wellness Center is not-for-profit and Joint Commission accredited and does not turn away any patient due to an inability to pay. Payment options include Medicare, Medicaid and most private insurance. For those who are uninsured, payment is on a sliding fee scale based on income.
Presbyterian Medical Services is New Mexico's leader in improving the lives and health of New Mexican families and communities. The nonprofit organization has been designing and delivering health and human services since 1969 and has no affiliation to Presbyterian Healthcare System or Presbyterian Health plan. To learn more about Santa Fe Family Wellness Center and Presbyterian Medical Services, please visit pmsnm.org